Tuesday, May 24, 2022
Generals strong play with mixed results.
Bantam
On Saturday May 21st the Niagara Generals played the Niagara Spears at Kiwanis Field in St. Catharines. Head Coach Bruce Macrae states "In this game our players left it all on the field'. Quarterback Cameron Macrae ran for 50 yards and threw a touchdown pass. Gavin Vasquez punched in a short yard run for a major, Mateo Ayala kicked for an extra point, and Calum "Sunshine" Smith caught a 30 yard pass for an end of 4th touchdown to make for a very tight game. The Generals took a 20-22 loss. As a coach coming into a pre-season game Macrae was sure to play all his athletes to determine what needs to be worked on for the upcoming season.
Coach Greene, head coach from St. Catharines Collegiate said "no question the bantam Generals will be a force to recon with, the football talent in Niagara is tremendous. I look forward to seeing the players from both teams in High school action!"
As a coach coming into a pre-season game Macrae was sure to play all his athletes to determine what needs to be worked on for the upcoming season. "I'm extremely proud of how our athletes played this game although there are things we need to work on as players and coaches. I believe we are in for an amazing season, and I am looking forward to seeing what these kids can do". - Coach Bruce Macrae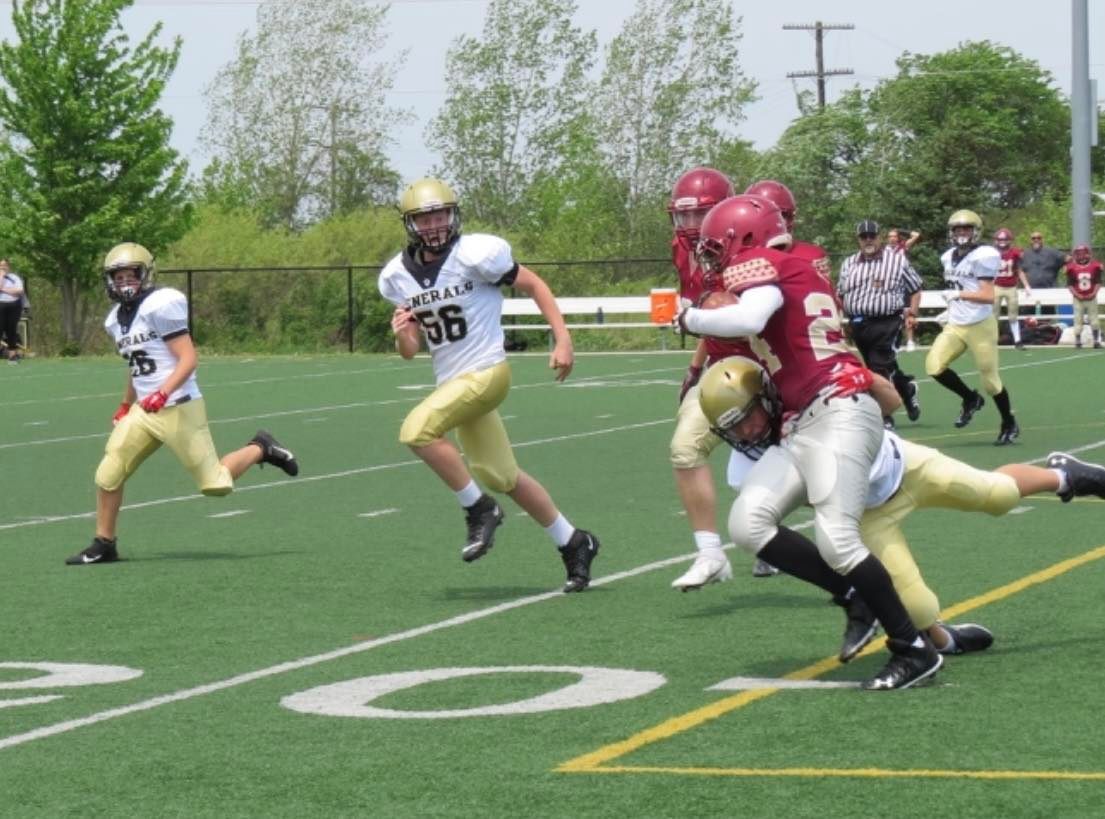 Peewee U12 Generals
The U12 Niagara Generals were victorious on the road this week in a 60-6 victory over the Brantford Bisons. Once again the Niagara defense did not disappoint and held their ground giving up only 2 first downs the entire game. Brantford rallied and was able to drive in one touchdown in the final seconds of the game. We have some work cut out for us continuing to develop our depth players but we are very pleased with their progress so far this season. The Niagara offense mirrored the defense and other than one fumble they were flawless. Our offensive line anchored by rookie center Rocco Frisoli had a fantastic game. They were able to hold the Bison's defensive line in check allowing our high-octane offensive backfield to move the ball at their leisure.
Coach Kent Wakem states "We are very fortunate this season with multiple weapons on our offense."
Single majors were scored by Luis Corredor-Reyes, Dyami Maphar, Ryder Hughes, Rudy Somerville, Layken Crawford and Lox Raducanu. Two additional majors were added by Spencer MacRae. Four two-point converts were added by Mark Hazzouri and single point converts were added by Jackson Mills and Spencer MacRae. Defensively, Aiden Weltz and Dante Torelli recorded fumble recoveries and the defense as a whole recorded a safety. We look forward to a break this coming week to rest up and prepare for our next battle on the road against the Cambridge Lions June fourth. Photos by Linda Bover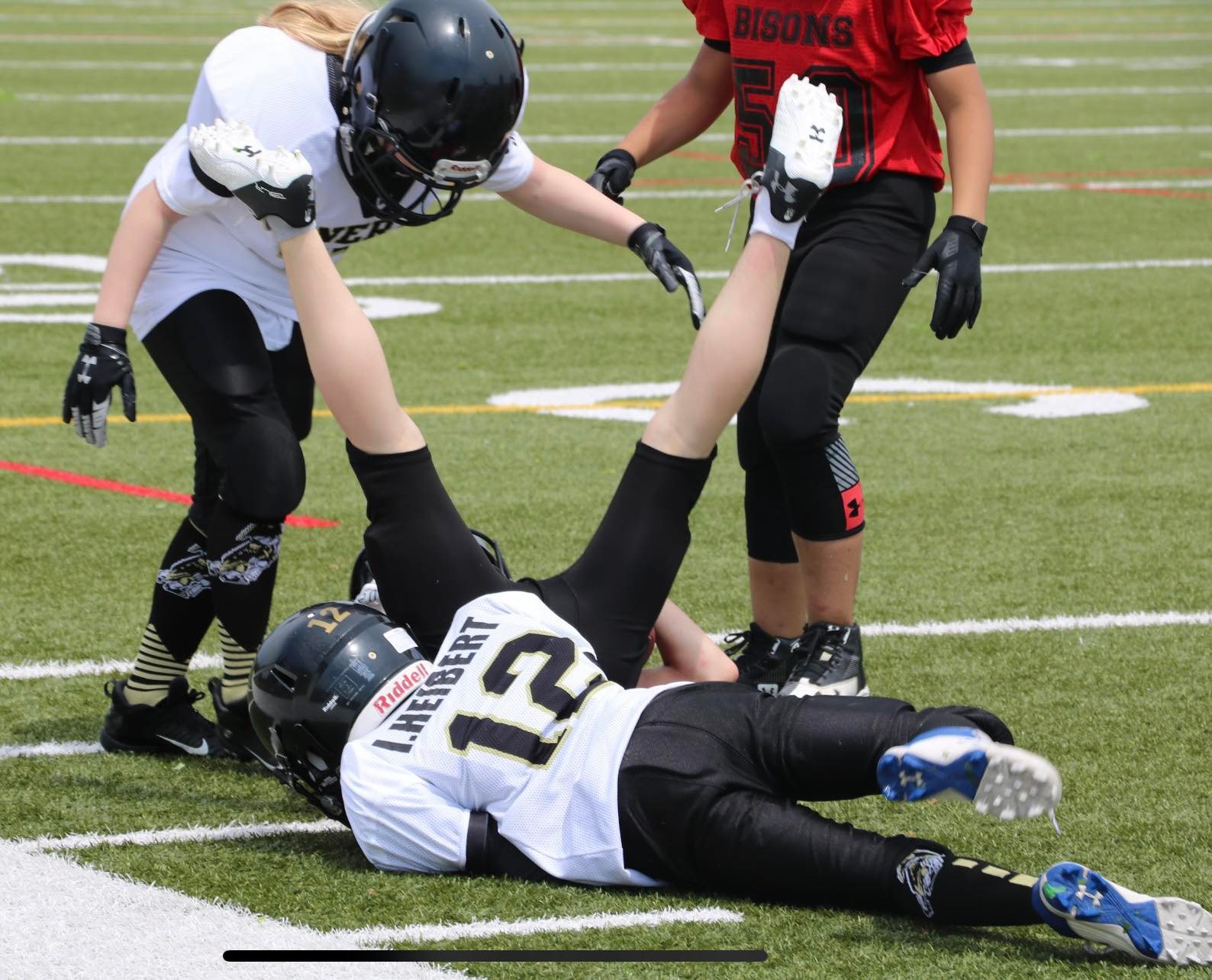 Atom U10 Generals
Today's game against the Brantford Bisons started off strong with a 1st possession fumble recovery by the Generals defensive end Eli McLean. Our offense then drove up the field and capitalized on the opportunity with Jake Brewster scoring a rushing touchdown giving the Generals a 6-0 lead.
Through the remainder of the first half the Generals defense struggled to contain the outside runs which ultimately lead to Brantford scoring 3 straight touchdowns. At the end of the 2nd half Jake Brewster had a huge QB keeper run with no time left on the clock but was unfortunately tackled just before the goal line ending the 1st half with Brantford up 20-6.
Throughout the majority of the second half the Generals defense played very tight, containing Brantford's inside and outside runs. On 4th and 3 in the Generals red zone, the Generals defensive end Jaxon Bielich came up with a huge tackle turning the ball over on downs. After the big defensive stop our offense managed to move the ball up field but we took a penalty that set us back and it was too much to overcome. Unfortunately, we were not able to capitalize. Brantford was able to break through after the turnover and scored, which resulted in a 26-6 final score.